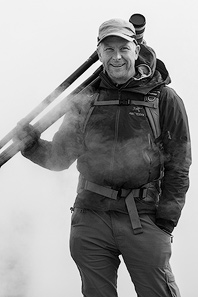 Sean Bagshaw
Team Member
Location: Ashland, OR
Favorite Location in Cascadia: The redwoods and the Wild Rivers Coast
Must Have Gear: Canon EOS R, RF 15-35mm f/2.8 L IS Lens, Breakthrough Photography magnetic filters, f-stop Tilopa, down long underwear
Photographic Influences: Photo Cascadia, Jack Dykinga, Galen Rowell, so many current photographers.
Website: www.OutdoorExposurePhoto.com
YouTube: www.youtube.com/seanbagshaw
Facebook: www.facebook.com/Sean.Bagshaw.Photography
Instagram: www.instagram.com/seanbagshaw
Twitter: www.twitter.com/SeanBagshaw
500px: www.500px.com/Sean_Bagshaw
Sean is an outdoor photographer, digital image developing enthusiast and photography educator based in Ashland, Oregon, where he resides with his wife and two sons. In the 1980s and 1990s he did some rock climbing and mountaineering and enjoyed being expedition photographer because it allowed him to present slide shows to anyone he could corner in a dark room with a projector. Over time he moved away from documentary images and became immersed in the art of photography. Now he photographs mountains instead of climbing them. He spends about a quarter of each year sleeping in his truck or on the ground, stumbling around in the dark, eating bad food and avoiding showers. Twice since 2008 his images have been exhibited in the Smithsonian as winners in the Nature's Best Windland Smith Rice International Awards. His previous career as a science teacher makes photography education a good fit. Sean teams up with fellow Photo Cascadia members leading workshops. He also teaches digital image developing classes, lectures and offers a series of Photoshop video tutorials.
Recent articles by Sean Bagshaw