Photographing Through The Seasons
AN eBOOK BY PHOTO CASCADIA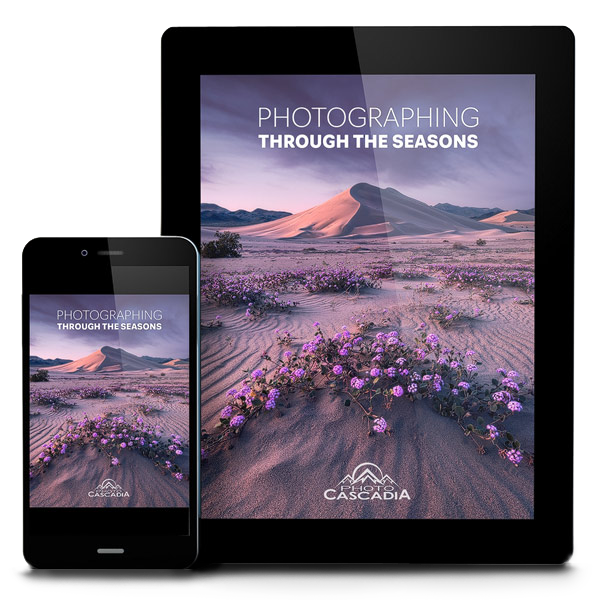 Great Places to Photograph Each Season
in the Western United States
This book reverses the usual approach of a location guide. Rather than beginning with a destination, we begin with a season and recommend areas in the western United States that are likely to be highly photogenic at that time of year. Even for people who have a lot of freedom to travel, circumstances may dictate when that travel can happen. This guide answers the question of where to go to make the most of whatever time you have available for photographing nature.
219 Pages
100 Photo Stories
49 Nature Tips
13 States (AK, AZ, CA, CO, HI, ID, MT, NM, NV, OR, UT, WA, WY)

Location ideas with a chapter dedicated to each of the four seasons

Suggestions and tips for capturing in the field and processing

PDF File Format (62 MB)
Each chapter begins with a summary of the season, providing you with an overview of seasonal opportunities and ideas for how you can make the most of your time out in nature.
Stories in each season will inform and entertain you. Each of the 100 stories includes a photograph along with regional information, photography advice, camera settings, and behind-the-scenes details.
Tips for Camera Raw, Lightroom, and Photoshop address typical seasonal challenges so that you can avoid common pitfalls and make your images that best that they can be.
Included throughout the book are 49 Nature Tips to help you to be a well-informed friend of the environments that you photograph.
What People are Saying about "Photographing Through the Seasons"
"As a travel photographer myself, I found this guide's unique approach to photographing each season in the Western United States refreshing, informative, educational and fun. Combining location info with Photoshop/Lightroom tips, camera settings and stunning photographs makes this book a 'must have' for travel photographers (including myself) going to this part of the country."
"This is an amazing book put together by an amazingly talented group of photographers. More than just a photo travel guide, this book offers plenty of helpful photography tips, and most important, a heaping plateful of inspiration. The Photo Cascadia team doesn't just answer the questions of when and where, but also why and how, giving you important tools to become a better photographer. You won't be disappointed!"
"I totally enjoyed reading Photographing Through the Seasons. It is an amazing visual and informational feast brought to you by the extremely talented members of PhotoCascadia. It turns the idea of the traditional photographic guidebook on its head by providing a cornucopia of locations from throughout the Western United States but sorted based on ideal shooting conditions for each season. At over 200 pages, it's filled with many stunningly presented images and sure to get your inspirational juices flowing no matter the time of year."
"I recently had the privilege of reading the latest Photo Cascadia eBook, Photographing Through The Seasons. I wanted to take a second to write you and pass along a combined thank you and congratulations. This guide is an all-encompassing bible to shooting throughout the Western US, and you've done an outstanding job of offering up ideas for photographers trying to find inspiring places to enjoy nature and create images.

What I found particularly compelling is the layers of knowledge that appeared throughout the entries. Not only did you discuss which areas and times to visit, but the personal anecdotes behind your shots gave me wonderful insight into the creative process you went through while making the incredible photographs displayed in the guide.

The nature tips were the perfect compliment to the location information, as it reminds me that we carry with us a responsibility to embrace the preservation of nature as we walk through it.

It's obvious that a tremendous amount of work went into the creation of this book. The result is an excellent guide, inspirational read, and beautiful presentation of the photography and wisdom of some of the best nature photographers working today.

I enjoyed every word."
"Photographing Through The Seasons is an excellent guide offering up destination ideas to photograph throughout the western states during the four seasons. As a landscape photographer, I appreciate the gorgeous imagery, the stories behind the images, and the photo tips written by members of the Photo Cascadia team.

Much care is taken to not disclose specific location GPS coordinates or directions in the guide. It's clear that the Photo Cascadia team has a deep appreciation for nature and practice Leave No Trace principles themselves.

This guide is a must have for photographers wanting to make the most during their photo trips throughout the year. "
"Photographing Through the Seasons is not only a great guide to photographing the Western United States but also a great collection of stories and photography tips told by some of the world's finest landscape photographers. The seasonal photography and processing tips can be useful for both beginning and advanced photographers alike."
"As an avid lover of the outdoors and seasons, I loved the layout of this book. The authors incorporate beautiful imagery along with helpful processing tips in both Lightroom and Photoshop. One thing that really set it apart for me was the various "nature tips" throughout. As an advocate for the "leave no trace" principles, I found it admirable that the writers included so many great ideas around those topics. It certainly shows their respect for conservation and future generations. Overall it was such a fun and informative read that I found myself not wanting it to end."