Photo Cascadia's first group show will premier at Hanson Howard Gallery in Ashland, Oregon! You are invited to the show's opening reception on Friday, November 3, 2017, from 5:00 to 8:00 pm. You can also see the exhibit Tuesday through Saturday, 11:00 am to 5:00 pm, November 1 to 18.
The images in the show have been selected for qualities of atmosphere, an elusive but critical element in our photography. As a group, we share a passion for atmosphere, searching it out and capturing it in the landscape, so we felt it was a fitting and unifying theme for our first show. What is atmosphere? In the literal sense, it is the envelope of gases surrounding the earth. In a more literary sense atmosphere often refers to the heavens, firmament or the ether. More commonly it can allude to the pervading tone or mood of a place, situation, or work of art. Other words that express the meaning of atmosphere are ambiance, feel, character, aura, quality and flavor. In our landscape photography, atmosphere is often the defining element and key ingredient. Recognizing and recording compelling atmosphere at the precise moment is often the difference between ordinary and transcendent.
The Atmosphere Exhibit features 14 pieces, two per photographer. The photographs are 30×45 inch fine art, high gloss prints on aluminum. Special thanks to HD Aluminum Prints in Vancouver, Washington for their excellent work producing the show. Prints are available for order in a range of sizes through the gallery.
It is an honor to have Hanson Howard Gallery host the show's inaugural location. Hanson Howard Gallery is located at 89 Oak St. in Ashland, OR. For more information visit www.hansonhowardgallery.com or call 541-488-2562.
We hope you can come to the reception or visit the exhibit in Ashland in November.
— Adrian, Chip, David, Erin, Kevin, Sean, and Zack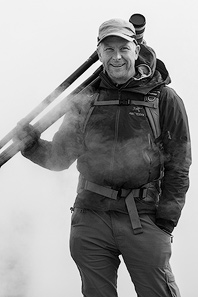 Sean is an outdoor photographer, digital image developing enthusiast and photography educator based in Ashland, Oregon, where he resides with his wife and two sons. His previous career as a science teacher makes photography education a good fit. Sean teams up with fellow Photo Cascadia members leading workshops. He also teaches digital image developing classes, lectures and offers a series of Photoshop video tutorials.
More posts by Sean     Visit Sean's Image Gallery    Visit Sean's Website