Welcome to 2016 on the Photo Cascadia blog. I have the distinct honor of being chosen to write the first article of the new year. Actually I drew the short straw, but either way I'm excited to be kicking off Photo Cascadia's sixth year of sharing, learning, exploring and inspiring here on our blog.
Back in October of 2015 I lead a photo tour in the Eastern Sierra through the Cascade Center of Photography with Christian Heeb, one of the most versatile professionals and experienced travel photographers around. The two of us, and our intrepid group of photographers, spent a memorable week exploring the mythical landscapes along Highway 395. The following is a photo journal of the trip. All of these photos were taken by Christian and myself. Christian is the people photographer, so he's not in many of them.
The Eastern Sierra is a land of legends. Every landscape evokes geologic and volcanic legacy, Native American history, explorers, pioneers, the gold rush, famous mountaineers and one of the birth places of the American national parks and environmental conservation movement. The expanses are big, the mountains are grand and the landscapes are varied. Of course, the Sierra Nevada has inspired some of the most well known American photographers, Ansel Adams and Galen Rowell not the least among them.
The area is so large and parts are so remote that a lifetime of exploring wouldn't allow you to see it all. Some of the most scenic and photogenic locations are in the high mountain wilderness, deep in canyons or far out in the remote desert and only accessible by those who are especially adventurous and fit. However, it also has many world class photography locations which are accessible by car or with short hikes. This makes the Eastern Sierra a great destination for any photographer and a popular area for photography workshops and tours like this one. There are so many good locations which can be accessed by a group workshop that one week almost wasn't long enough.
Christian and I planned our tour to be timed with the peak of autumn aspen color. Like anywhere, the fall color quality and timing varies from year to year, but most often it peaks near the third week of October. During our visit some of the highest elevation groves were past peak, but the middle and lower elevation colors near Lee Vining, June Lakes and Bishop Creek were at their height. During the fall season the temperatures are generally very pleasant. Mornings at the higher elevations can be below freezing, but daytime temperatures were quite comfortable at 60-75 F (15-22 C). The busiest time in the Sierra is summer when it is overrun with tourists, backpackers, mountain bikers, climbers and campers. In October, some areas still get quite a few visitors, but nothing close to the crowds of summer, and we were the only people at several of the places we went.
Our trip covered the region between Mono Lake on the north and the town of Lone Pine on the south. The distance between is over 100 miles, so we based out of a few different towns during the trip to minimize driving time to our sunrise and sunset locations. As you can see from the images, we had some spectacular light and weather conditions.
Most important of all is the fun we had. We had a wonderful and diverse group of talented photographers. People came from all over the west and as far as Florida, Maryland and Switzerland. Everyone was enthusiastic, positive and energized. I think everyone learned a lot, made new friends and had lifetime experiences. We also laughed a lot and captured some spectacular photographs. Photo credit for this next collection of workshop images goes to Christian Heeb.
I work with Christian and the Cascade Center of Photography regularly. They are one of few dedicated photography centers in the Western US and a great resource for all types and levels of photographers. Each year they offer a wide selection of classes, workshops and tours. Classes for all levels and genres of photography are held in Bend, Oregon, where the center is located. They also lead tours all over the world. Christian and I will be taking a group to Patagonia and Easter Island in March and they have trips to Cuba, France and Morocco on the calendar, just to name a few.
All of the locations in this article are open to the public, have good access and ample information can be found on them with quick web searches. Following are some additional resources for the Eastern Sierra you may find helpful.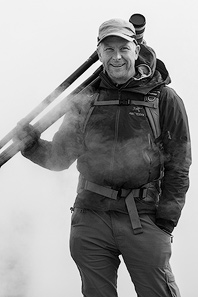 Sean is an outdoor photographer, digital image developing enthusiast and photography educator based in Ashland, Oregon, where he resides with his wife and two sons. His previous career as a science teacher makes photography education a good fit. Sean teams up with fellow Photo Cascadia members leading workshops. He also teaches digital image developing classes, lectures and offers a series of Photoshop video tutorials.
More posts by Sean     Visit Sean's Image Gallery    Visit Sean's Website