Note: Readers have asked some great printing questions in various locations, so I'm compiling them along with my answers at the end of the article so they are all in one place.
I often get questions about how I prepare an image for printing with an online print lab for best results, so I've collaborated with Artmill.com to create this tutorial which we hope will help you get great prints.
Printing online can be as simple as uploading phone pics to a lab directly from your smart phone or as advanced as working one on one with a professional print master to go through a multi-step hard-proofing process to fine tune every aspect of the final piece. Most of us who are photography enthusiasts will take an approach somewhere in the middle. Just a few simple pointers can really elevate the quality of your prints.
In the video below, I take you through my process of preparing an image for printing online. In both Lightroom and Photoshop, I cover how to address color accuracy, contrast, sizing, sharpening and the most common print challenge…prints that come out too dark. In the video, I unbox the print so you can see how it turned out.
Artmill was kind to provide the promo code OUTDOOREXPOSURE for my viewers/readers. You can use it at http://www.artmill.com to get 15% off your first order.
For more tips on printing make sure to read Zack Schnepf's article on the Photo Cascadia blog: www.photocascadia.com/blog/5-essential-tips-when-preparing-images-for-print
You can also view my tutorial on soft proofing in Photoshop: https://youtu.be/ND_GzCueX4s
Just to be clear, I don't work for Artmill and I was not paid to do this video. We felt some information on this topic would be welcomed and they were kind enough to provide the printing. The print itself will be auctioned as part of a fundraiser for the public library here in my home town.
Your Q's generated by the video and my A's:
Q: I've been wanting to try an online print, but worried I would mess it up.
A: If you haven't printed online before I suggest ordering a small test print on photo paper first and if you like what you get, then order a larger, more expensive print. Some labs even offer a free small sample print on your first order for proofing purposes.
Q: I have had such awful experiences with online prints! Always dark, grainy, out of focus.
A: It's important to remember that the print can only be as good as the original image file. Issues that may not be noticeable at a small size on screen, such as noise or soft focus, will become very obvious in a large print. It's important to zoom in to 100% magnification to inspect and evaluate images. If you see noise, focus or other issues that bother you at this magnification then they will be visible in a large print…and the larger the print the more visible they become.
Q: When you were in Photoshop did you increase the size of the image? I always thought this would make it blurry and lose sharpness and detail.
A: Yes, I did enlarge the image in the video…both in the Lightroom example and the Photoshop example. If you want to print a photo bigger than the size it comes out of your camera it must be enlarged somehow. You can either do it or the print lab will do it…but somebody is doing it. There are two ways that Photoshop can enlarge images for printing. It can either increase the number of pixels in the image (interpolation) or it can increase the "size" of the pixels (decrease the pixels per inch). Taken far enough, both of these methods will eventually lead to decreased image sharpness and detail. But Lightroom/Photoshop now do an excellent job enlarging. I find that I can at least double the output size of my original image file and still get excellent results. For example, without any enlarging an image from my 30.4 megapixel Canon 5D4 will print at roughly 15 x 22.5 inches at 300 ppi. This means that I can enlarge up to 30×45 at 300 ppi with very good detail and even up to 40×60 or larger if the image is very clean or when printing on textured paper or canvas, which doesn't show as much fine detail anyway. Depending on the viewing distance, you could potentially go even larger. I have printed wall murals 15 feet high that look great because you have to stand back several feet to view them. They are not as sharp up close, but that's not how they are meant to be viewed. So, if you want to print images larger than they come out of your camera I say go for it!
Q: Before you apply the sharpening for print, do you remove all other sharpening that might have been applied before in Lightroom?
A: I learned from the photography gurus, Mac Holbert and Jeff Schewe, to think of image sharpening in three phases: input sharpening, creative sharpening and output sharpening. Input sharpening is the fine sharpening you can do in LR or Camera Raw to tighten up the fine edges and optimize clarity that is lost with digital cameras (caused by low pass filters and pixel bleed). Creative sharpening is the interpretive and often localized sharpening (or blurring) and clarity work we do during the developing process to help guide the eye, create depth and dimension and showcase elements. Output sharpening is the sharpening done to an output copy to optimize the image for the particular output at the particular size. For example, an image sized to 1000 pixels wide for viewing on the internet has different output sharpening needs than an image sized to 18,000 pixels wide for a 60 inch print on canvas. All three of the sharpening passes are independent of the other and need to be determined on a case by case basis based on the qualities of the image and the intent of the photographer. But, in short…all three types of sharpening work together so don't remove one to add the other. You do want to carefully evaluate and adjust them as you go to make sure that they are working in concert with each other, however.
Q: Do you also increase the exposure, contrast and vibrance when printing on your home printer?
A: Yes I do, but at home I can also soft proof with the ICC profile for my printer and the paper I'm using and I can run test prints and make adjustments until I get it just right…so the process is a bit more scientific.
Q: You selected the printer resolution of 2880 x 1440 in Output Sharpener Pro. How did you know what to select there?
A: This is another question you could ask your lab to find out what settings they use and be the most accurate, but the differences will be slight. On my own printer that is the ink dot resolution I print with. I didn't ask Artmill what printer resolution they use so I went with that to be safe. Choosing a lower resolution in Sharpener Pro adds more sharpening to compensate for fewer dots of ink. If I don't know the ink dot resolution the printer will put down on paper I feel it is better to err on the side of under sharpening than over sharpening.
Q: Are the Nik/Google plug-ins still available? It was great when Google made them free…but then I heard they were going to stop offering them. If they are still available then people should grab them while they can.
A: Yes still available at the moment. There are other options as well, including PhotoKit Sharpener 2.0 by PixelGenius, Topaz and others.
Sean is a full-time photographer and photography educator. You can see more of his images and find out about his video tutorial courses and upcoming workshops, tours and classes on his website at www.OutdoorExposurePhoto.com.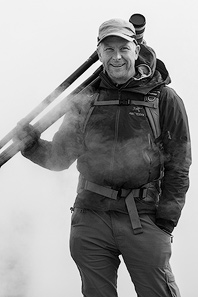 Sean is an outdoor photographer, digital image developing enthusiast and photography educator based in Ashland, Oregon, where he resides with his wife and two sons. His previous career as a science teacher makes photography education a good fit. Sean teams up with fellow Photo Cascadia members leading workshops. He also teaches digital image developing classes, lectures and offers a series of Photoshop video tutorials.
More posts by Sean     Visit Sean's Image Gallery    Visit Sean's Website