In May I went on an incredible journey with my Camera and my friend Paul to the north of Norway. We explored the Lofoten Island Chain and Senja Island. In June I shared a trip report and images here on the Photo Cascadia blog. Since then I have completed some more images and a short behind the scenes movie of our adventure.
All the video for the movie was captured with my iPhone or with the DJI Mavic Pro drone that I brought with me. I was just mentioning the other day that the Mavic Pro is currently the only drone that has the control and camera quality that I'm looking for, combined with being small enough to fit in my camera bag with the rest of my gear. I'm learning that video, particularly drone footage, provides a welcome added layer to my photographic story telling. Still images have to convey a feeling or concept in a single frame, so light, composition, timing and developing really come into play. Video, on the other hand, does a great job of bringing you along for the ride, sharing the story of the lifestyle and experience behind the photos. The drone takes it up a level (litterally) by providing perspective, motion and views that can't be captured any other way. The downside of the drone is that it is, at the least, distracting and more commonly simply annoying and unsettling to others. It is important to me to not impose that on others, so I try to fly only when there are no people around. Fortunately, in Norway, we were photographing during the night and we rarely saw other people.
So, please enjoy Northland: Photographing Arctic Norway.
Thanks for watching! If you would like to learn more about the trip, make sure to check out my initial trip report as well.
Sean is a full-time photographer and photography educator. You can see more of his images and find out about his video tutorial courses and upcoming workshops, tours and classes on his website at www.OutdoorExposurePhoto.com.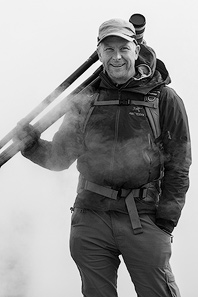 Sean is an outdoor photographer, digital image developing enthusiast and photography educator based in Ashland, Oregon, where he resides with his wife and two sons. His previous career as a science teacher makes photography education a good fit. Sean teams up with fellow Photo Cascadia members leading workshops. He also teaches digital image developing classes, lectures and offers a series of Photoshop video tutorials.
More posts by Sean     Visit Sean's Image Gallery    Visit Sean's Website