In April 2018 I had the opportunity to photograph on the Faroe Islands with fellow photographers Raynor Czerwinski and Josh Merrill. The video below is a behind the scenes look at our trip set to music (if you are viewing this article via email you need to view it on the website to see the video). I hope it provides some inspiration and gives you an idea of what our experience was like. The video isn't a travel journal, so it doesn't have information about how and where to go. I link to some info and resources for the Faroe Islands at the end of the article that can help you with that.
If you are not familiar, the 18 Faroe Islands form an archipelago between the Norwegian Sea and the North Atlantic, about halfway between Norway and Iceland, 200 miles north-northwest of Scotland. The islands are their own country but are part of the Kingdom of Denmark. Altogether, the islands cover just 541 square miles and have a population of about 50,000 people. By comparison, Iceland covers 40,000 square miles and has a population of about 350,000.
The terrain on the Faroes is rugged, rocky and treeless. The climate is subpolar oceanic; in other words, windy, wet, cloudy, and cool. Despite how far north they are, temperatures are moderated by the Gulf Stream and average above freezing.
In the last five years or so the Faroes have started to become a destination for photographers and adventurous travelers. The rugged mountainous terrain, imposing sea cliffs, dramatic weather and lack of people make them an outdoor enthusiasts playground. All of these characteristics drew my attention a couple of years ago when I first started seeing photos of the islands. Raynor, having previously made trips to nearby Iceland and Northern Scottland, learned about the Faroe Islands even earlier and made his first trip there in 2016.
The trip ended up being everything I had hoped, both a photographer and as a traveler in a new and different land. Driving on the main islands, which are connected by roads, bridges and tunnels, was easy, and ferries connect to many of the islands that you can't drive to. There aren't a lot of hotels or restaurants outside of the capital city of Tórshavn, so we shopped for food in the markets and rented a couple of great cottages through Air B-n-B. Having been a chef in a previous life, Raynor cooked gourmet meals for the three of us every day.
Other than the weather and spectacular landscapes, the thing that stood out the most to me was just how insulated from the world the Islands have been and how unprepared they seem to be for the inevitable onslaught of tourists, adventurers and photographers coming their way. The people we met were wonderful and welcoming and appear to be generally optimistic about more people visiting the Faroes, along with the jobs and revenue they will create. I got the impression that in the past the number of visitors has been small enough that people could pull off the road just about anywhere and roam as they pleased. In fact, the tourism office uses this precise visual in their marketing. But now that they have begun to attract the attention of the rest of the world I think they have a long way to go to be able to handle the numbers that will show up in the next few years. Iceland has been going through similar growing pains since they began heavily promoting themselves as a tourist destination almost ten years ago. With more visitors come the problems of damage to the environment and wildlife and the need for parking, signage, regulations and enforcement, concepts which are new and unfamiliar to the island residents. We had a discussion (confrontation) with a farmer who is not happy that his land has recently become overrun with tourists and his privacy disrupted by cars, buses and cameras. His land is listed as a destination on the tourist map and has a parking lot with bus parking and public toilets, which he said the office of tourism more or less constructed against his wishes. But he seemed unsure what he should do about it. We suggested either completely gating off his land and putting up signs to keep tourists out or charging entrance and/or parking fees. He seemed reluctant to try either option. Perhaps there are aspects of the politics and local land laws that we don't understand?
Another location, which has been unregulated in the past, began requiring visitors to travel with a local guide just a few days before our arrival. We were the first people to hire the young man who guided us, and from what we could tell we may have been the first people to hire a guide, period. Getting to this particular location, Drangarnir, requires about five miles of hiking each way along some exposed slopes with no marked trail. The route crosses three different sections of private land.  With increasing visitation, the landowners felt that initiating the guide requirement was necessary for both tourist regulation and safety. We were happy to comply and our experience was enhanced by having a friendly and knowledgeable local along with us. But the procedure for hiring a guide, the terms of the guiding service and the cost of the guide were not particularly well explained. The only indication that a guide was required that we found was a small sign posted on a fence where some people begin the hike. It essentially said that a guide was required and could be arranged on three days of the week by calling the phone number listed. With just a few visitors a week this system might be adequate. However, I predict that within a year or two there will be hundreds of people per week coming to do this hike during the summer season. Without someone at the trailhead full time, enforcing the guiding rule will be a nightmare. Even on our hike, we ran into a solo hiker who had come in from some other starting point, appeared to either not know or not care about needing a guide, and was lost.
It seems clear to me that the Faroe Islands will be experiencing some growing pains for a while as they figure all this out and decide how to handle it. In the meantime, my hope is that the photography community (and all tourists) will treat the islands and the people with respect and patience as they go through the process. I would advise people to stick to the trails, follow the signs and know the rules, but these things don't really exist at this time. To me, that's a large part of what made the Faroes so inviting in the first place. It's sad, but inevitable, that one day there will be trails, fences, signs, guard rails, permits and designated viewing areas like we see in so many other places. Until then I hope visitors will be friendly, ask permission, tread lightly, be safe, show respect and generally be good guests.
Before you go make sure to do your research. Here are some online resources I found helpful.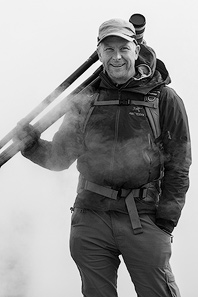 Sean is an outdoor photographer, digital image developing enthusiast and photography educator based in Ashland, Oregon, where he resides with his wife and two sons. His previous career as a science teacher makes photography education a good fit. Sean teams up with fellow Photo Cascadia members leading workshops. He also teaches digital image developing classes, lectures and offers a series of Photoshop video tutorials.
More posts by Sean     Visit Sean's Image Gallery    Visit Sean's Website