Exposure blending has become a regular tool in the digital darkroom for a lot of photographers. Exposure blending allows you to create an image of a scene in which the dynamic range of light was too great to record in a single exposure. Instead of blown out highlights or ink-black shadows, exposure blending makes it possible to retain good color and detail in the brightest highlights and deepest shadows and also do it in a way that looks natural. As the dynamic range capability of cameras continues to improve there are fewer situations which have a dynamic range beyond a single exposure, but there are still many cases that do.  And even if highlight and shadow recovery is possible from a single exposure, exposure blending can sometimes offer gains in final image color, clarity and noise.
But exposure blending can be a challenging and time-consuming technique, depending on the characteristics of the image.  In this video tutorial, I demonstrate a fast and easy way to accomplish natural looking exposure blends using the TKActions V6 panel which works for a lot of common high dynamic range situations landscape photographers encounter.
If you are viewing this blog via email you can view the video at this link: https://youtu.be/FxDIIP-5-40
The steps I demo in the tutorial are as follows:
Start by making basic raw adjustments to the exposures.
Open the exposures in Photoshop as smart objects.
Stack the smart objects as layers in a single image document with the dark layer on top.
Select the top layer and turn off its visibility.
Turn on Layer Mask mode in the V6 RapidMask2 module.
Click the Composite or Lights-1 mask button in the module to apply a Lights-1 mask to the top layer.
Turn the visibility of the dark layer back on.
Paint on the Lights-1 luminosity mask with a soft black brush to further mask out the landscape area of the image.
Fine tune the raw adjustments to each of the smart object layers to help them "match" or blend in the transition zone.
That's it. Make sure to watch the video to pick up some additional tips and variations on the technique. Most exposure blends done using this technique can be accomplished in a minute or two once you get the steps down.
I hope this helps you out when you need to blend exposures. Leave me a comment or question if you have one and I'll get back to you.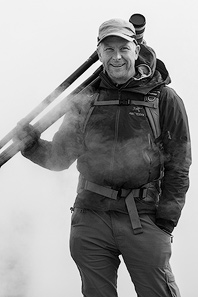 Sean is an outdoor photographer, digital image developing enthusiast and photography educator based in Ashland, Oregon, where he resides with his wife and two sons. His previous career as a science teacher makes photography education a good fit. Sean teams up with fellow Photo Cascadia members leading workshops. He also teaches digital image developing classes, lectures and offers a series of Photoshop video tutorials.
More posts by Sean     Visit Sean's Image Gallery    Visit Sean's Website