This week on the PhotoCascadia blog we are very excited to welcome a new blog contributor, the talented and esteemed Erin Babnik. We became acquainted with Erin's photography a couple of years ago. At the time she was doing a lot of work in the Julianne Alps of Slovenia and the Dolomites of Italy. To say we were inspired and moved by her elegant compositions and captivating visual storytelling would be an understatement. We also enjoyed how closely she shares our own love of adventure and exploration of wilderness. In addition to being an accomplished outdoor photographer, Erin is a scholar and talented writer. She has a deep background in art history and is a master Photoshop user and educator. We are ecstatic to add Erin to the PhotoCascadia blog lineup. Her articles will add a valuable new dimension of  ideas, knowledge and perspective that we can share with our audience. Erin will be a regular contributor so watch for her articles in the weeks and months to come. Our goal for this first Q&A article is to let her share some details about her background and photography interests, as well as showcase some of her wonderful imagery so you could become acquainted with her. In addition to her photographs, Erin offers instruction and leads workshops. We know you will want to check out more of her work and follow her on the web. Make sure to bookmark her site at www.erinbabnik.com. You can also follow her on Facebook and 500px.
Welcome Erin!
1. You have a background in art history and archaeology. How did those two fields come together for you, and how did you evolve from there into a career as a full-time landscape photographer?
My degrees are in art history, but with a specialty in the art of ancient Greece. Working with ancient art necessitates a strong familiarity with the contexts in which ancient artworks were created, put to use, and later discovered, and it also requires a good understanding of archaeological field technique in order to make critical use of excavation reports about those discoveries. I therefore participated in archaeological expeditions in Israel for four years in order to gain experience with fieldwork. During that time, I began photographing artifacts and archaeological contexts in order to produce my own archive of photos for research and teaching. I started out by documenting the small finds and architectural remains where I was excavating and ultimately visited museums and sites throughout Europe and in the Middle East to round out my archives.
Those photographic pursuits quickly expanded into assignment work since I had a rare combination of subject knowledge and a passion for photography that produced unique results, and those projects in turn led to a lot of licensing of my photos. So before long, I was very much a 'working' photographer, and the idea of making photography a larger part of my professional life became increasingly appealing. My focus on landscapes grew directly out of the years that I spent photographing ancient ruins; trying to make compelling images of beautifully-sited temples and sprawling architectural foundations greatly developed my understanding of outdoor photography and piqued my interest in capturing natural ephemera. It also caused me to seek out locations where I could be free of the access limitations that are imposed at most archaeological sites. That desire to find both beauty and freedom soon had me exploring the Alps and venturing to increasingly remote and obscure locations. For a long while I clung on to my academic career because I so enjoyed teaching, but I finally decided that teaching landscape photography workshops would satisfy that passion nicely.
2. Do you feel as though your experience as an archaeologist has benefited you as a landscape photographer?
Yes, absolutely. There is a great amount of overlap between the two activities. An archaeologist must travel to remote locations, start work before sunrise, spend a large amount of time outdoors, work in challenging conditions, endure physical hardship, exercise great patience, and be willing to get very, very dirty. Anyone who has spent much time doing landscape photography will be quite familiar with those realities of the art! My time spent excavating in the Middle East toughened me up considerably and exposed me to a lot of travel situations that made me better able face the challenges of working in extreme conditions and in foreign countries. Archaeology also instilled in me an enthusiasm for discovery, which helps drive me to find new views and compositions when I'm out with my camera.
3. You obviously put a lot of care into the processing of your images. At what point did you begin to learn post-processing, and what philosophy, if any, guides you in your approach to it?
My first experiences with image editing actually preceded my interest in photography. I even taught Photoshop classes at a couple of art institutes for years before I ever even thought about using a camera for any serious purpose. It all started when my father began writing for a computer magazine and had to review new hardware and software as it came out. He also wrote books on various software programs and asked me to collaborate with him. It was my job to figure out how to use the software and to create example images that could serve as content for his tutorials. That experience landed me a job at a young age in the prepress department of a large newspaper, right when digital prepress solutions were just emerging. Adobe took an interest in the experiments of our department and sent representatives to teach us this new program called Photoshop, so we pioneered its use alongside the continuation of traditional prepress methods. Therefore, without ever having produced any serious photographs of my own, I became quite proficient at both traditional darkroom work and digital image editing. Learning Photoshop from the first version onward made it relatively easy to master the program and then stay on top of it as new features came out, so I subsequently had no problem acquiring work as a Photoshop instructor.
My philosophy about processing my own photographs did not quite grow out of those experiences, however. It was more so the years that I spent in art school to study studio art and then in graduate school to study art history that really influenced my particular approach to processing. Being exposed to so much art and to the history of it all has made me value personal expression and interpretation above most other goals. Although I do not indulge in the creation of pure fantasy scenes, I also do not think of my landscape photographs as reflections of some absolute reality. I aim to communicate my own experiences of a place, which may mean subtly altering spatial relationships, tones, or colors in order to impart a sense of perspective or a certain mood. It may mean combining different exposures to achieve a certain field of view, depth of field, or a combination of photographic effects that a camera cannot pack into a single frame on its own. These techniques come together in post–processing, but they usually require a deliberate approach at the moment of capture—so in a sense, my approach to processing a photo often begins well before I've taken any exposures for it.
4. What do you find most challenging and most rewarding about landscape photography?
The challenges of landscape photography are many, but chief among them is probably the necessity to think on your feet when unpredictable situations occur, which is often. I prefer to have the luxury of thinking through a composition at my leisure, refining it, and then waiting for a great display of ephemera to go with it. Those sorts of outings are wonderful, but all too often a mad dash and/or extemporaneous composition is necessary to come away with anything worthwhile when nature decides to be uncooperative. I always agonize over the decision to abandon a composition that excites me when it looks like opportunity will be knocking elsewhere, and I dislike feeling rushed when I'm composing a photograph. Then again, it can be a real thrill when an act of compositional triage forces me into a gamble that pays off in the end.
As far as rewards go, I suppose it is a toss-up between the experience of enjoying a magnificent view while photographing it and the experience of making a final photograph that communicates the essence of that experience. I enjoy both ends of the process immensely. Although I am probably happiest when I am out in nature, those moments can continue to pay dividends through photographs that successfully register something special about a particular place and time. I love that moment when I'm processing a photo and it starts to 'speak' to me, expressing whatever it is that I feel is worth sharing. Moreover, seeing other people deriving enjoyment from what I was able to express in a photograph is incredibly gratifying.
5. Your style of photography is quite adventurous, involving a significant amount of backpacking and wilderness camping. How do you typically go about choosing these types of destinations?
I usually choose my destinations after poring over topographical maps to identify potentially photogenic features and alignments. I find that I can get the basic sense for an area most quickly by looking at maps of it. Once I find an area that looks promising on paper, I then explore it 'virtually' using satellite imagery and Google Earth, and I look for snapshots that might provide more detailed information about a location or about terrain at an elevation that I'm targeting. Working in this manner usually means that I'm setting myself up for some surprises, and they don't always work out in my favor. One time I planned a backpacking trip to photograph a glacial tarn that ceased to exist the year that I went to find it. It wasn't until I had driven seven hours and hiked up nearly four thousand feet of steep terrain that I learned that there was no tarn because the glacier had finally become too small to produce enough runoff to fill the basin below it with water.
I also end up in a lot of interesting places simply because I enjoy the company of likeminded photographers who share my interests in exploring obscure locations. For years I resisted shooting with other people because I wanted to minimize distractions and complications, but lately I have swung the other direction. I have been lucky to make friends with some very intrepid photographers who have introduced me to locations that they have researched. Sharing the experience of exploration and discovery with inspiring photographers is possibly the greatest fun that I have ever known, and doing so has expanded my wanderings to areas that I may never have found by following my own nose.
6. How would you describe the qualities that are typical of your work?
The one thread that probably runs through most of what I produce is an interest in seldom seen locations and compositions. I think it's my love of discovery and of solving puzzles that drives me to experiment with new locations and vantage points. While I marvel at familiar scenes as much as anyone else, I always have this urge to find out what lies beyond them. As far as basic aesthetics go, I tend to gravitate towards scenes that provide a strong sense of visual hierarchy and of timing. Although I enjoy images that do a compelling job of featuring all-over patterning or of eschewing temporal specificity, I don't tend to produce them myself. Counterbalance, atmospheric effects, and dynamism all feature quite regularly in my images, and despite having a great amount of respect for black-and-white photography, I prefer to work in color.
7. When you are not photographing or processing images, what do you like to do?
I like to stay active as much as possible, so I do a lot of running and enthusiastically seize opportunities to go swimming when they arise. I really do enjoy the whole range of outdoor activities associated with photography, including hiking and camping, and I sometimes like to indulge in them without any photographic agenda governing my time. In addition to keeping my body active, I like to exercise my mind as well, so I regularly get out to museums and galleries, and I love to read philosophical musings about photography wherever I can find them. Judging photography competitions also provides me with an outlet for exercising my eyes and mind in ways that producing photographs cannot, so I accept a number of invitations to commentate and judge at competitions around the Bay Area each year.
8. What photographic projects do you have planned for the future?
At the moment I have a workshop in the Dolomites with co-leader Enrico Fossati scheduled for July 5–11 and several private workshops planned in the summer and Fall. I also have been invited to write a feature article for a magazine to recount my adventures on a month-long trip through the southwest that I recently completed. Those projects and my usual photography travels will keep me quite busy, but I hope to make plenty of time this year to finish an e-Book on photographic expression that I have been plugging away at for years now.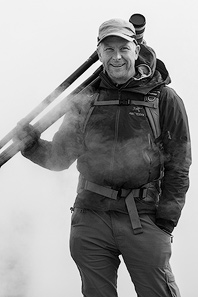 Sean is an outdoor photographer, digital image developing enthusiast and photography educator based in Ashland, Oregon, where he resides with his wife and two sons. His previous career as a science teacher makes photography education a good fit. Sean teams up with fellow Photo Cascadia members leading workshops. He also teaches digital image developing classes, lectures and offers a series of Photoshop video tutorials.
More posts by Sean     Visit Sean's Image Gallery    Visit Sean's Website