The answer to this question, as with so many questions, is it depends.
Adobe's release of Lightroom 1 was way back in 2007, but by that time I had already been immersed in Photoshop for seven or eight years. The purpose of Lightroom was to create an application that improved overall workflow efficiency by utilizing an image database (or catalog) to store metadata changes and image developing parameters without actually needing to change the pixels of the original image file. In the early days I found Lightroom's ability to organize, keyword and search my image collection to be a big improvement over Photoshop's bridge. I also found that, while the types of raw image adjustments the Develop Module could make were similar to Adobe Camera Raw, I really preferred the Lightroom interface and how it integrated seamlessly with the other Lightroom modules. But that's about as far as it went. At that time the Develop module had very few adjustment options and all adjustments were global, which meant that they were applied uniformly across the entire image. Like Adobe Camera Raw, Lightroom 1 was good for making base level adjustments to raw files, but any complex, creative or localized image developing work still needed to be done in Photoshop. Seven years on we have progressed to Lightroom 5 (Lightroom Mobile was just released last week). Each new version of Lightroom has introduced improvements and new functionality. I now consider Lightroom to be a very full featured image developing solution in its own right. But does it render Photoshop unnecessary to the outdoor photographer?
Click on each image to enlarge.
I find that more and more photographers I interact with use Lightroom as their complete and only image developing application. In addition to these "Lightroom only" users there are also those who use only Photoshop (including Bridge and Camera Raw) and those who utilize both Lightroom and Photoshop as I do.  A common question from all three groups is, with all the current developing features and abilities that Lightroom 5 has, is Photoshop really necessary? In this video chapter from my recently released tutorials, Lightroom Essentials, I demonstrate developing an image entirely using Lightroom. Hopefully it will help some folks get a better feel for if Lightroom is able to do everything they need or not.
In the end, whether Lightroom is the only image developing application you need or not truly does depend on what your image editing goals and expectations are. Lightroom is considerably more affordable than Photoshop, and for many photographers it now has more than enough image editing power and functionality. The following is a bullet list of some features in the Lightroom Develop Module that allow it to function as a complete developing solution for many of us. I teach how I use these features and many more in my Lightroom Essentials tutorials. Visit my website to get more information and watch additional chapters.
Spot removal tool now allows for more complex non-circular cloning and healing.

Gradient Filter, Radial Filter and Adjustment Brush make it possible to apply "layers" of localized adjustments and even create basic masks to control adjustments.

White Balance controls, Tone Curve and HSL controls provide alternate ways to balance and correct colors.

Tone Curve provides powerful and flexible tonal and contrast adjustments.

B&W adjustments provide tools for creating dramatic black and white images.

Like Photoshop, image sharpening can be applied in three stages (input sharpening with the Detail tab, creative localized sharpening using the Gradient and Radial Filters and the Adjustment Brush and output sharping on export or printing) for optimal image sharpness.

The Lens Correction tab has tools for making transformations and perspective corrections as well as for correcting lens distortion and vignetting.

Because all adjustments are only recorded as adjustment parameters in the Lightroom catalog, the actual pixels of the original image files are not altered so all Lightroom developing is essentially non-destructive and backwards flexible.
Many photographers find they still need the power, flexibility and precision provided by Photoshop's multitude of adjustments and filters and its ability to work with layers, selections and masks. Following are just a few of the things that can be accomplished with Photoshop but not with Lightroom.
Multi image blending techniques including: exposure blending, motion blending, focus blending, star stacking, pano stitching, white balance blending, compositing and much more.

Using channels to create Luminosity Selections and Luminosity Masks.

Blending Modes and Blend-if control.

Ability to access other color modes such as Lab Color.

Multiple ways to create highly refined selections and the ability to target adjustments with selections.

Limitless options for creating and combining different kinds of adjustments for color, contrast, clarity, sharpness, saturation and tonal adjustments.

High level of control, flexibility and precision in Photoshop (with a lot of knowledge and practice) allows images to be refined to a degree that isn't possible in Lightroom.
Personally, I find that for many images I AM able to work entirely within Lightroom. But for my very best images I need the expanded and flexible adjustment options and the ability to make highly accurate, refined and subtle selections (especially Luminosity Selections) that Photoshop provides. The ability to combine or blend elements of multiple exposures or frames is critical for many of my images as well. For me, both Lightroom and Photoshop are essential tools in my workflow.
What are your experiences with using one, the other or both? Please share or feel free to post questions regarding the use of Lightroom vs Photoshop in the comments below.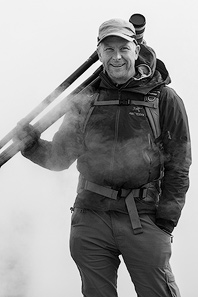 Sean is an outdoor photographer, digital image developing enthusiast and photography educator based in Ashland, Oregon, where he resides with his wife and two sons. His previous career as a science teacher makes photography education a good fit. Sean teams up with fellow Photo Cascadia members leading workshops. He also teaches digital image developing classes, lectures and offers a series of Photoshop video tutorials.
More posts by Sean     Visit Sean's Image Gallery    Visit Sean's Website